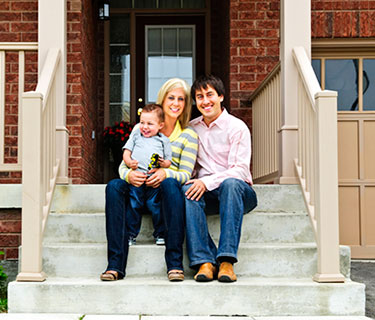 There's no place like home. Whether you own or you rent, it's a place for celebrations, for savoring the good things in life, and more importantly, it's a place that you can call yours.
Your home is important, and no one realizes that more than Gene Reed Insurance Agency. We offer packages that insure the following:
Homes
Condominiums
Renters
Rental Dwellings
Scheduled Personal Property
Mobile Homes
Boats
Personal Liability
Protection Where You Need It: Home is where the heart is, and our packages are designed to put you at ease*
Guaranteed Replacement Cost Coverage for the Dwelling (VIP and Preferred Policies Only)
Replacement Cost Coverage on Contents
Water Back-Up of Sewers and Drains
Identity Theft with Resolution Service: Unlimited, one-on-one access to a highly trained fraud specialist
Equipment Breakdown: Covers breakdown of central air units, furnaces, heat pumps, sump pumps, etc.
Earthquake
Refrigerated Property
Scheduled Personal Property
Pet Health Insurance: Covers accidental illness and injury for cats and dogs.
Water and Sewer Line Breakage: Provides service to repair leaks or breaks caused by normal wear and usage.
*Additional charge applies unless otherwise indicated
Should disaster strike, we'll provide you with coverage you can rely on, including:
House Structure
Personal Belongings
Liability Protection
Medical Payments
Additional Living Expenses (hotel and restaurant bills, etc)
Available Discounts:
Auto/Home
Mature Homeowner
New Home
Renovated Home
Protection Devices
Home Under Construction
Sump Pump Discount
Actual Cash Value Roof Discount
In addition, we also offer:
Coverage Plus Endorsement: An optional endorsement that provides a package of enhanced coverage, giving your that extra peace of mind you strive for.
Leisure Products Endorsement: An optional endorsement that provides extra insurance protection for various leisure activities such as golfing, hunting, and fishing.
Tenant's Policy: A homeowner's policy designed for a rental dwelling such as an apartment or a home, that provides property and liability coverage.
Available Discounts and Credits*:
Home and Auto Discount
Non-Smokers Credit
Deductible Credit
Protective Device Premium Credits
Experienced Homeowners Discount
New Home Credit
Dwelling Under Construction Credit
Waiver of Deductible Credit
*Individual credits, discounts, and programs may not be available in all states.
Rental Dwellings:
For those who own property that is rented an occupied by others, Gene Reed has a policy designed to protect your dwellings. This includes both property and liability coverage.
Available Discounts and Credits*:
Deductible Credit
Dwelling Under Construction Credit
Protective Devices Credit
Multi-Policy Credit
*Individual credits, discounts, and programs may not be available in all states